I have to apologize to my dear blog-friends out there (and the grandparents, aunts and uncles...you count too). I have been away from blog world for over a week now! I feel so out of touch, and I am looking forward to catching up and reading all of your blogs.
Where have I been? Disneyland? The beach? A week filled with too much fun to blog? Well, let's just say it's been a week I hope to never repeat. It all started last Saturday when Sarah woke me up in the middle of the night, and I rushed her to the bathroom. I held back her hair and rubbed her back, and told her she was going to be
ok
. When she finished throwing up, I promptly gave her a glass of water, and gently wiped her face. This repeated about seven times before morning. Sarah was sick for about three days. Then it was Olivia's turn. I stayed up all through the night with her Tuesday night. Trying to catch the puke in a bowl, washing sheets, washing it out of her hair,
washing
her face and comforting her until she would stop crying and fall back asleep. I didn't even need to set the alarm, by the time 6:00 am rolled in I had already been up for hours. It was off to work. Jon took care of Olivia during the day,and when I got home he headed off to work. Well, Thursday (Olivia's still sick) about 3:00 pm, it hit
ME
like a rumbling tornado. I ran to the bathroom and took my turn driving the porcelain bus. But I didn't even have time to recuperate, as the kids needed to be picked up at 3:30 from school. When we got home, I was back in the bathroom driving the bus. I can't remember the last time I was so sick. As this continued all through the night, I began to feel sorry for myself. Oh how I wished there was someone there to feel sorry for me, to hold my hair back for me, or get me a glass of water, or even a towel to wipe my face. But no, a mom has to take care of herself. The next morning my husband came stumbling through the door saying he had to come home from work early because he was so sick. As he laid in bed repeating what I had just gone through the night before, I painfully got the kids ready for school and in the car. I tried not to resent Jon as he laid in bed all day Friday, and even though I was still very sick, I took care of Olivia, picked the kids up from school, did the dishes, washed dirty sheets, and made dinner. And so I bestow upon myself the well-deserved title of Super Mom.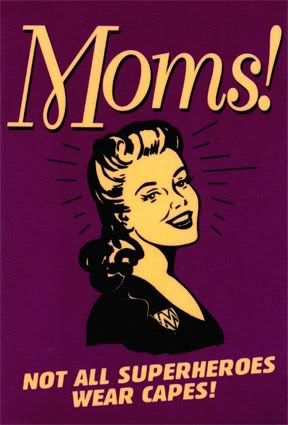 As I type this, Jon is still in bed sick and Daniel has thrown up nine times today. I will sleep in a sleeping bag on Daniel's floor, so when he wakes up I will be there to make sure he makes it to the bathroom, I will rub his back, and tell him he's doing good, I will get him a drink of water, and yes...I will gently wipe his face with a clean towel like only a Super Mom can.